Accident & Emergency
99616 30000


Paediatrics & Neonatology
Neonatology Treatments in Kochi
VPS Lakeshore's Department of Paediatrics provides treatment of exceptional quality. in pediatric care. The doctors under this department have been trained abroad for many years and also have vast work-experience in Kerala. Children are cared for by trained intensive staff and a team managed by appropriate specialists and consultants from different specialties co-operating with the paediatricians. Effective treatment is provided for simple as well as complex diseases. The paediatricians are specially trained to treat cases of complicated health in newborns. 
The paediatrics department finely focuses on avoiding unnecessary medicines and preserving minimum medicines, which are absolutely necessary and appropriate for a particular disease.
Key Highlights
Treatment for diseases like long-standing undiagnosed Fevers, Autoimmune diseases, Bloodborne diseases, Malignancies, Endocrine problems, growth problems, pubertal problems, Asthma, and other chest problems
Handles bowel problems like Constipation

Deals with Heart diseases, Brain diseases, etc.

Intensive care of pediatric patients offered

Breastfeeding support and proper weaning advice including follow up in growth development of babies
Dr. Navin Anto John
Senior Consultant & HOD - Paediatrics and Neonatology
Qualification
MBBS, MRCPCH (UK), FRCPCH (UK), PG Dip CH (UK), DCH, CCT (UK)
Experience
M

ore than 20 years of training and  experience in 

P

aediatrics and 

N

eonatology.

Trained in Paediatric pulmonology and paediatric allergy in UK to manage variety of respiratory conditions like difficult and chronic cough, difficult asthma, night time cough, sleep difficulties, exercise induced asthma, dysfunctional breathing and investigations like lung function tests, exercise stress test, sleep oximetry  and management of multiple allergies with ways to grow out of allergies.
Management of acute paediatric and neonatal conditions including, Refractory seizures, diabetic ketoacidosis, septic shock, severe Asthma , post Covid- 19 manifestations of  MIS-C.
Management of extremely preterm neonates from 23 weeks onwards with different modes of ventilation and variety of neonatal conditions
Was the Head of Paediatric Respiratory and TB services and consultant of the paediatric allergy team in NHS Hospital, UK. 
Certified as an NLS (Neonatal Life Support) provider, UK and EPALS (European Paediatric Advanced Life Support Group) by Resuscitation Council UK.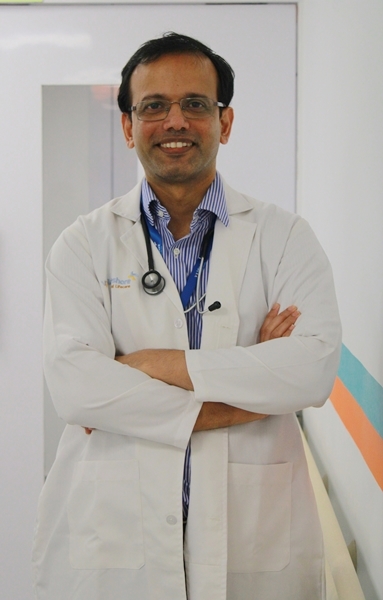 Dr. Navin Anto John
Senior Consultant & HOD - Paediatrics and Neonatology