Accident & Emergency
99616 30000


Comprehensive Liver Care Institute
Best Liver Care Center In Kochi, Kerala, India.
VPS Lakeshore's Comprehensive Liver Care Institute was established taking into account, the unique nature of liver and the various conditions it can go through.

The Comprehensive Liver Care Institute is a combination of different specialists who work as a team, dedicating their efforts to bring the best outputs in the area of liver-care. Nationally and Internationally acclaimed clinicians from fields such as Hepatology, Liver Surgery, Liver Critical Care, Interventional Radiology, Liver Oncology and Liver Pathology, constitute the very team under CLC. 


The experts here works under the following sections:
The services offered under Comprehensive Liver Care Institute include:

Evaluation of abnormal liver tests.

Treatment of Hepatitis C.

Treatment of alcohol-related and metabolic liver disease.

Management of patients with cirrhosis and portal hypertension.

Complex resection surgeries for liver, biliary tract and pancreatic tumors.

Liver Transplantation.

Pediatric Liver Transplantation.

Radiofrequency ablation treatment.

Diagnostic and advanced hepatology.

Liver Dialysis (MARS).

Advanced interventions like TARE, TACE, TIPS, etc. for liver diseases.
Dr. Abhishek Yadav
Director – Comprehensive Liver Care (Surgery)
Qualification
MBBS; M.S(General Surgery),M.Ch. ( Surgical Gastroenterology), Fellowship in HPB Surgery and Liver Transplantation
Experience
More than 10 years of experience in HPB Surgery and Liver Transplantation

Worked as a Consultant in the unit of Liver Transplantation at Indraprastha Apollo Hospitals, New Delhi

Worked as a Consultant at Care Hospitals, Hyderabad 

Was instrumental in setting up Liver transplant programs at various centers across the country and abroad prominent one's being Sheikh Zayed Hospital Lahore Pakistan, and at Karachi where he was invited multiple times to perform transplant surgeries and to train the local surgeons.

Director of Liver Surgery and Liver transplantation at Lakeshore hospital.
Over 15 years of experience in liver surgery 
Performed over 1500 liver transplant surgeries
Success rate of transplant surgeries more than 90%
Expertise in living donor, split liver, paediatric and cadaver liver transplantation.
Performed many complex and rare liver surgeries.
Instrumental in setting up liver transplant programs in other centres across the country and internationally.
Pioneered many new innovations in liver surgery and transplantation.
Founder member of Indian Liver Transplant Society and a life member of International Liver Transplant Society Delivered many lectures in National and International meetings
Other Information
Key Highlights:
Brilliant Team of Specialists

Specialized Operation Theatres

Liver Intensive Care Units (LICU)

Ultra-modern Support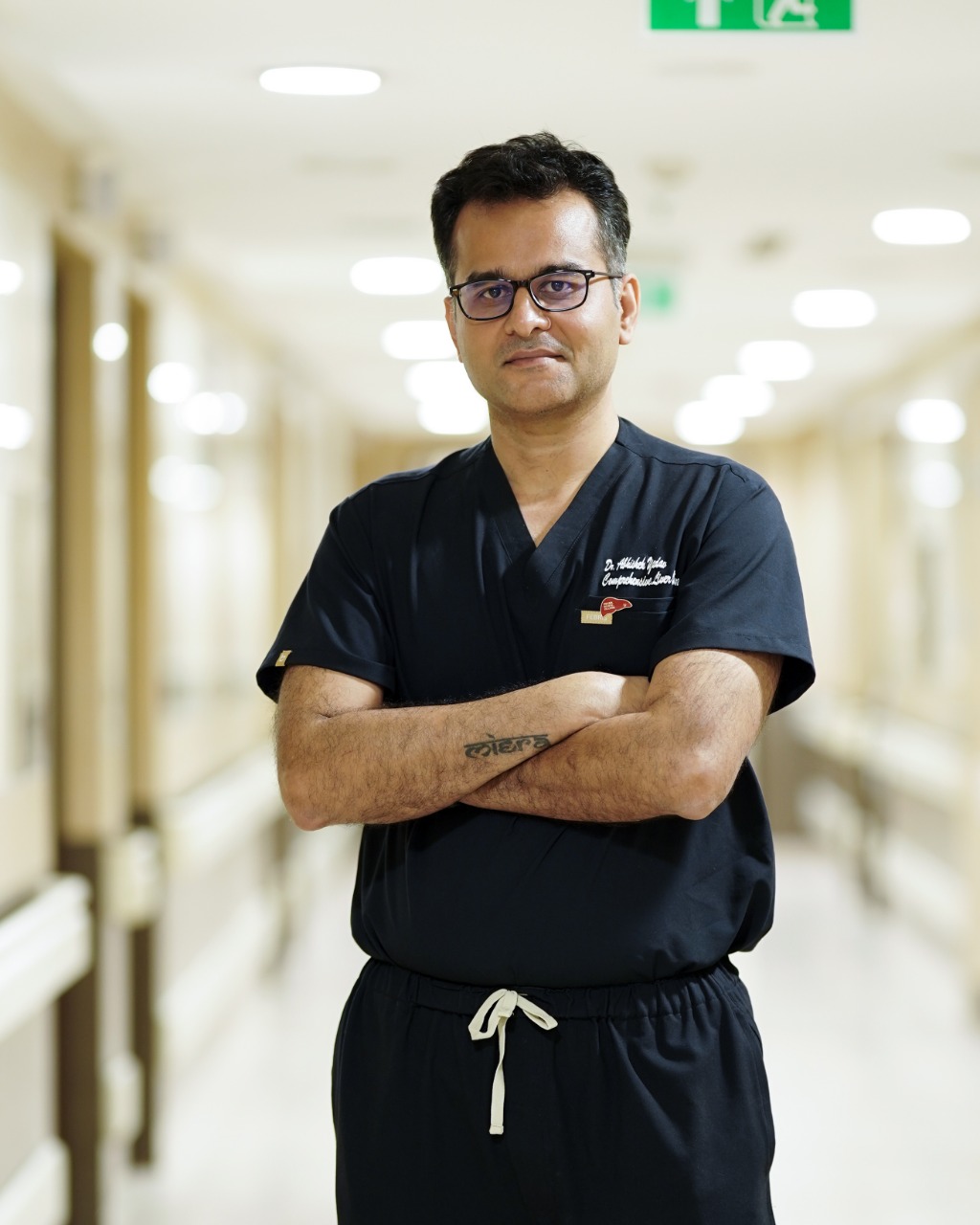 Dr. Abhishek Yadav
Director – Comprehensive Liver Care (Surgery)