Accident & Emergency
99616 30000


Neurology
Best Neurology Department In Kerala.
Being rapidly advancing, Neurosciences is the upcoming subspecialty of medicine. Diagnosis in the field of Neurology is gaining more accuracy, with the emergence of newer modalities in diagnosis, ranging from genetic studies to various imaging and neuro electrophysiological studies. The precise localization in the neuroaxis promotes sharp, accurate diagnosis thereby, leading to proper treatment. The department of Neurology at VPS Lakeshore deals with all subspecialties of Neurology in various diseases.
The Key Highlights of this Department are:
Video EEG
EMG
Evoked Potentials
Nerve Conduction Studies
Repetitive Nerve Stimulation
PET Studies
CT, MR Imaging Studies
Sleep study
Prolonged EEG Study
Other Main Specialities include:
Vertigo Clinic
Epilepsy Clinic
Movement Disorders Clinic
Headache Clinic
Memory Disorder Clinic
Neuromuscular Clinic
Angiogram
Carotid Stenting with an interventional Radiologist
Botulinum Toxin Therapy for Cerebral Palsy, Torticollis.
Blepharospasm, Hemifacial

Spasm, Chronic Migraine

Manual Therapy for Myofascial pain
Neurorehabilitation for Spasticity, Cerebral Palsy
Dr. Murali Krishna Menon
Sr. Consultant & HOD
Qualification
MBBS, MD (Gen. Medicine), DM (Neuro)
Experience



Worked with many reputed hospitals of central and northern Kerala as Consultant Neurologist.

Experienced neurologist practising for the last two decades.

Special interest in

Headaches, Neck pain, Back pain
Fibromyalgia, Myofasciitis 
Movement disorders
Treatment with Botox injection used for spasticity movement disorders & headaches.
Treatment for stroke & seizures.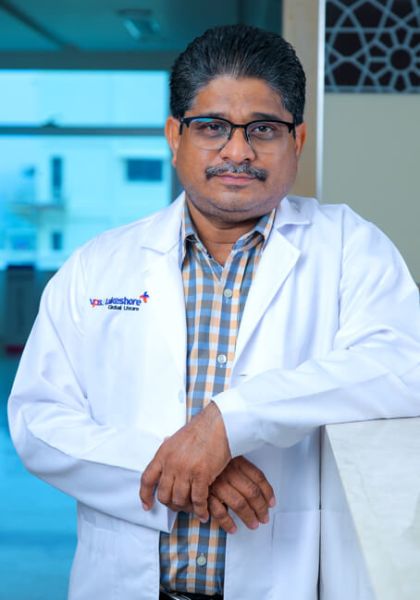 Dr. Murali Krishna Menon
Sr. Consultant & HOD