Accident & Emergency
99616 30000


Qualification
MBBS, MD (Gen. Medicine), DM (Neuro)
Experience
Worked with many reputed hospitals of central and northern Kerala as Consultant Neurologist.

Experienced neurologist practising for the last two decades.

Special interest in

Headaches, Neck pain, Back pain
Fibromyalgia, Myofasciitis 
Movement disorders
Treatment with Botox injection used for spasticity movement disorders & headaches.
Treatment for stroke & seizures.
Other Information
(Publications, Articles under Review/Prep)
Efficacy of Acyclovir in Post herpetic Neuralgia.

A Case of Congenital Muscular Dystrophy, Annual conference of API, Thiruvananthapuram, 2000.

Stephens Syndrome: A mitochondrial cytopathy, Annual Conference, Indian Academy Neurology, Madurai, 2000.

Clinical and Etiological Profile of Tropical Ataxic Neuropathy in Kerala, South India Mohan Madhusudanan, Murali K Menon, Karaden Ummer, Kurupath Radhakrishnanan.

Jalal MJA, Fernandez SJ, Menon MK. Acute Toxic Neuropathy Mimicking Guillain Barre Syndrome. Journal of Family Medicine and Primary Care. 2015; 4(1):137-138.

Abdul Jalal MJ, Fernandez SJ, Varghese P, Menon MK. Decompressive craniectomy in herpes simplex encephalitis.Neuroimmunology Neuroinflammation 2015;2:182-186.

Jalal MJA, Gomez R, Menon MK, Arunkumar K, Occipital lobe seizures – A rare hyperglycemic sequelae of type 1 Diabetes mellitus; Journal of Sciences,2015; Vol.5,Issue 12;1253-1255

Artery of Percheron Occlusion: The Role of Diffusion Weighted Magnetic Resonance Imaging in Early Diagnosis - Neuroimmunology Neuroinflammation.

Rhinocerebral Mucormycosis Treated with Posaconazole (An only oral first line anti-fungal) – Infectious disease in clinical practice.

Bilateral Medial Medullary Infarction with "Heart Appearance" Sign – Neurology, India.

Beck's Syndrome – Anterior Spinal Artery Occlusion – Annals of Indian Academy of Neurology.

Spontaneous Intracranial Hypotension Complicated with Cerebral Venous Thrombosis and Subdural Effusion: A Case Report - Neuroimmunology Neuroinflammation.

Accepted Poster at World Congress of Neurology - Oct 2019, Dubai.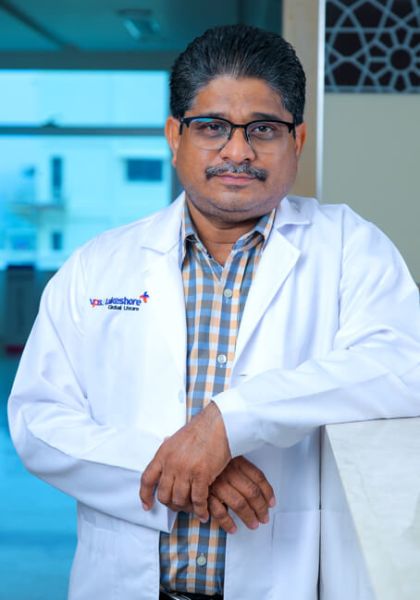 Dr. Murali Krishna Menon
Sr. Consultant & HOD