Accident & Emergency
99616 30000


Qualification
MS, DNG (Gen. Surgery), DNB (Surgical Gastro), FACS
Experience
Worked as an Assistant Professor in General Surgery at AIMS, Kochi.
Other Information
Researches and Publications
Abdominal compartment syndrome in emergency surgery for peritonitis.
Effect of Frey's procedure in the exocrine and endocrine functions of pancreas in patients with Tropical calcific pancreatitis.
Co Investigator in SAVE ABDO-0526 study- A phase II double blind placebo controlled,

multicenter randomized control trial of Enoxaparin Versus the study drug in prevention of

deep vein thrombosis in patients undergoing surgery for intra abdominal malignancy. (accrual completed)
Co Investigator in phase II double blind, placebo controlled multicenter adjuvant trial of

efficacy, immunogenicity and safety of GI-4000( Inactivated recombinant S.Cerevisiae

expressing mutant Ras protein combined with a Gemcitabine regimen versus Gemcitabine

regimen with a placebo, in patients with post resection R0/R1 pancreatic cancer with

confirmed Ras mutations.(continuing Follow up)
Intussusception due to ileal metastases from renal cell carcinoma. Venugopal A, Mahesh S,

Lekha V, Jacob G, Gandhi MD, Bedi MM, Sharma M, Jacob M, Ramesh H. Trop Gastroenterol.

2007 Jan-Mar;28(1):35-6
Contributed to a Chapter In ECAB clinical update on Acute pancreatitis (2010)
Arteriovenous malformation of the pancreatic head--difficulties in diagnosis and treatment.

Sharma M, Bedi MM, Mahesh S, Gandhi MD, Antony R, Mukkada RJ, Lekha V, Ramesh H.

Indian J Gastroenterol. 2011 Feb;30(1):46-8. Review.
What can be done when the cored specimen in a Frey procedure for chronic pancreatitis is

reported as adenocarcinoma? Mahesh S, Lekha V, Manipadam JM, Venugopal A, Ramesh H.

Indian J Gastroenterol. 2016 Nov;35(6):486-488. Epub 2016 Oct 26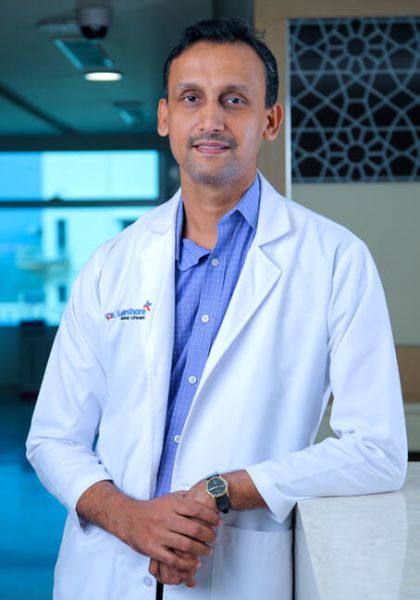 Dr. Mahesh. S
Senior Consultant