Accident & Emergency
99616 30000


Radiology and Imaging
Radiology and Imaging Departments in Kochi.
The advanced use of imaging has become one of the best practices in the field of medicine, making it easier for medical experts to diagnose their patients' diseases in a fast and safe method. Most of the medical tests today, require radiation to determine the diagnosis and analyse the response of a patient, post treatment.

VPS Lakeshore's Radiology and Imaging Centre has all the most modern equipments which helps in exact diagnosis. The department is equipped with C.T. Scanners, MRI Scanners, Ultrasound Scanning Machines, Bone Densitometer, C-Arm, X-ray Machines, Ango Suite and Mammography Unit. The Key Highlights of this Department include:
MRI Scan - 3 Tesla 48 channel 70 cm wide bore MRI - Siemens Magnetom Skyra Tim + Dot System.

          
Features Small and open appearance, bound to reduce the patient's anxiety and claustrophobia. A completely redesigned RF System and coil architecture is offered by Tim4G.
Direct RFTM technology enabling Tim's digital-in/out design.

Coil architecture involving Dual-density Signal Transfer Technology.

Whole-body Superconductive Zero Helium Boil-Off 3T Magnet.

Magnet and Gradient Design.

Water-cooled Gradient System which is shielded actively.

Uniform RF Distribution in all body regions.
The Tim Application Suite includes Neuro, Angio, Cardiac, Body, Onco, Breast, Ortho, Pediatric, CT Fast View and Scientific Suite Syngo MR Software including 1D/2D PACE, Syngo BLADE, iPAT2, Phoenix, Inline Technologies, Syngo WARP and CAIPIRINHA.

Applications :
Neuro Suite
Thorough Head and Spine examinations can be performed with highly purposeful programs. Unsupportive patients are provided with high resolution and fast protocols.  The Suite also provides protocols for diffusion imaging, perfusion imaging and MRI.
Angio Suite MR Angiography of superlative quality can be done to visualize arteries and veins even without the presence of contrast agent.
Cardiac Suite

Covers 2D routine cardiac applications, right from morphology and ventricular function to tissue characterization. Features Syngo BEAT 2D with iPAT and T-PAT techniques.
Breast Suite MR Imaging is highly sensitive to breast lesions and is also the best for examining silicone implants. Temporal and high spatial resolution gained in a short time using iPAT with GRAPPA.
MR Breast examinations are swiftly evaluated by way of Soft Tissue differentiation, customized protocols and also flexible multi planar visualization.
Body Suite Covers all areas of clinical body application needs. Abdomen, Pelvis, MR Colonography, MRCP, Dynamic Kidney and MR Urography applications are provided with 2D and 3D protocols. 2D PACE technique makes body-imaging easier, by paving way for multi breath-hold examinations and free breathing during the scans.  2D PACE Inline technology reduces motion artifacts to a major extent.
Onco Suite

Soft-tissue contrast, multi-planar capabilities and the possibility of selectively suppressing specific tissue, are all advantages of MR Imaging. This promotes the visualization of pathologies, particularly metastases. The Onco Suite possesses a spectrum of sequences and tools for evaluation and protocols, to guide during the detailed screening of clinical indications.
Ortho Suite Contains an outstanding set of protocols for spine and joint imaging. Avascular necrosis and internal derangements mostly suit MR Imaging. The protocols under ortho suite are also applicable to the imaging of infections and tumors.
Pediatric Suite The guidelines of Pediatric imaging vary, when compared to that for adults. The main aspects of this, are developing tissues, body size, heart-rate and limited compliance with breath-hold commands.
Scientific Suite
Supports a scientifically oriented user with smooth access to application-specific data which is required for further processing and advanced computation methods.

CT Scan : 64 Slice CT Scanner - Wipro GE Lightspeed VCT XT/e
Dr. Thara Prathap
HOD & Senior Consultant
Qualification
MBBS, DMRD, & MD from Medical College, Trivandrum DNB from Apollo, Chennai
Experience
20 years of professional experience in radiology
Faculty, KREST, PG Teaching programme (2000 till date)
Member, Governing council, Indian Society of Gastro intestinal Radiology
Academic coordinator of IRIA Kerala state branch for 2022 till date
Co-investigator NAFLD nationwide Phase III and II trials.
Invited speaker at various state and national conferences
Over 50 publications in national and international journals
Contributed chapters in "Comprehensive textbook of clinical radiology" published in 2022
Contributed a chapter in "Uterine Cancer, Diagnosis and Treatment" published in 2015
Life member of Breast Imaging Society of India (BISI)
Life member of Society of Chest Imaging and Interventions (SCII)
Other Information
Features:
The fastest CT System which can cover the whole body in 10s, providing high resolution images.

Employs a unique technology in reconstruction, known as ASIR (Adaptive Statistical iterative Reconstruction), which reduces CT doses approximately by 40 percent.




Spiral CT Scanner which takes multiple sub second cross sectional images of the body. The images can be reconstructed into multiplanar and 3D images. 




4D Dynamic application where the equipment scans an area of nearly 32cm in one shot, giving 500 slice CT coverage. 



Special Application
Imaging Green - at low doses with ASIR.

CT coronary angiography for early detection of plaque in coronary arteries.

CT cerebral angiography and CT Perfusion for early diagnosis and management of stroke.

CT abdominal and peripheral angiography to detect and manage vascular blocks caused by stenosis and thrombosis.

CT hepatic/renal angiogram for pre-transplant workup.

CT enterography for detection of inflammatory and ischemic bowel disease and small bowel evaluation.

CT colonoscopy as a screening modality to detect early colonic cancer

Full body 3D and volume reconstruction for scoliosis management and in polytrauma.

Virtual bronchoscopy/CT pulmonary angiography to detect bronchial lesions and pulmonary thromboembolism.
Ultrasound Scan
Colour Doppler Ultrasound Scanners
GE VOLUSON 730 PRO V - For Ultrasound and Doppler Studies. GE LOGIQ S6 - For Ultrasound and Doppler Studies. GE LOGIQ 200 - Portable Ultrasound Scanner.

Features

Gives real time multi-dimensional images.

Helps in vascular and 2D imaging.

Provision for Transrectal and Transvaginal studies.

Ability to perform TRUS guided procedures like sextant biopsy of prostate, other pelvic masses and aspiration of pelvic abscess.
Mammography Unit
Siemens MAMMOMAT 3000 NOVA - with classic CR system
GE - IITV 800mA Legend CRF
SILHOUETTE VR 500mA with classic CR system
Routine X Rays
Single and double contrast barium studies
Enteroclysis
MCU
IVP
Lymphangiogram
Interventional Radiology
Chemoembolization for HCC (TACE).
Transarterial Radioembolization (TARE).
Embolization in GI Bleed.
Peripheral Angiography and Angioplasty.
Cerebral Diagnostic and Therapeutic Angiography.
Embolization of vertebral body Hemangioma, Spinal AVM and Tumor.
Portal vein embolization.
PTBD and Stenting.
Routine Biopsies/FNAC/ Aspirations.
Plug liver biopsies.
Radiofrequency Ablation liver (RFA).
TIPS/DIPS.
Testicular Varicocele embolisation.
Renal Artery Stenting.
Post-transplant (Liver/Renal) Management.
A.V. Fistula Thrombolysis via Transradial Approach.
Coil/Plug Assisted Retrograde Transvenous occlusion of varices in cirrhotic patients for recurrent bleed/encephalopathy (CARTO/PARTO).
Translumbar dialysis catheter access/ Perm Cath/  Triple Lumen Dialysis Catheter Placement.
Bone Densitometry
Third-generation dual energy X-Ray absorptiometry technology along with GE Lunar Prodigy to deliver outstanding accuracy and provide correct data on soft tissue and bone tissue composition which is inclusive of bone-mineral density, lean and fat tissue mass and fat percentage.

Medsynapse PACS Unit
Images are sent online to the concerned consultant suites. There is a backup available for all images, enabling its access at anytime when required.
Routine X-Rays Full Spine and Leg Image Pasting Dual Energy Image.
SIEMENS C-Arm with DSA (Siremobil Compact L).
GE - C Arm Stenoscop MDA Plus.
RGP, URS, PCNL, DHS, etc.
Siemens - Siremobil 60, 160 mA Mobile X-Ray Unit .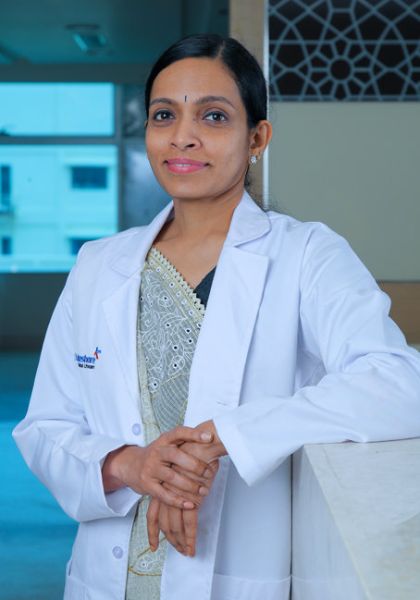 Dr. Thara Prathap
HOD & Senior Consultant