Accident & Emergency
99616 30000


Urology & Renal Transplantation
Best Urology & Renal Transplantation Hospital In Kochi, Kerala, India.
What makes the Urology department of VPS Lakeshore praiseworthy, are their expertise and experience in the fields of Endourology, Laparoscopy and Renal Transplantation. The department has done the largest series of Kidney Transplantations in Kerala (keyhole surgery for kidney stones) and is also known as an excellent Laparoscopic Urology Centre.
The Urology team here, is the first to introduce RIRS to Kerala. Having crossed 830 cases, they are one of the top leaders in South India for advanced RIRS cases. The department performs all types of Advanced Laparoscopic cases and all minimally invasive procedures for stone diseases are done as well. They have performed the largest number of Laparoscopic Partial Nephrectomy's in Kerala.
Laparoscopic Radical Prostatectomy for Cancer Prostate, Laparoscopic Nephrectomy, Radical Nephrectomy and Partial Nephrectomy for Renal cancer, Pyeloplasty for obstruction, Stone Surgery and Bladder Surgery are all done here.
Key Highlights of this department are:

3D Laparoscopy, Minimally Invasive Surgery

Stone Clinics

Andrology Clinics

Prostate Camps for Senior Citizens

Donor Nephrectomy

Pyeloplasty for Hydronephrosis

Varicocele Surgery

Radical Cystectomy

Ureterolithotomy

Endourology: PCNL, Ureteroscopy, RIRS

Advanced Diagnosis and treatment for congenital problems of children and stress urinary incontinence in female patients

Male Infertility Treatment
Dr. George P. Abraham
HOD, Sr. Consultant Urology and Renal Transplant
Qualification
BSc, MBBS, MS, MCh (Uro), FICS, FRCS (Glasg)
Experience
Over a period of 25 years, individually performed more than 2500 renal transplantations

Expert in the surgical handling of complex urological disorders.


Has 32 years of experience in endourological procedures. 

Third surgeon in the world to perform living donor Laparoscopic Renal Transplant 

Performed the first Cadaver Transplant, PCNL, Lap Donor Nephrectomy 3D laparoscopy in Kerala.

Pioneered endourological procedures in Kerala with 15,000 of them to his credit.

Has successfully completed more than 8500 cases of PCNL, 12000 cases of URS and more than 12000 cases of TURPs.

Performed more than 8000 Laparoscopic Urological Procedures and around 2500 Renal Transplants.

Has more than 13 years of experience in Laparoscopic surgeries and has successfully performed more than 9000 laparoscopic urological surgeries.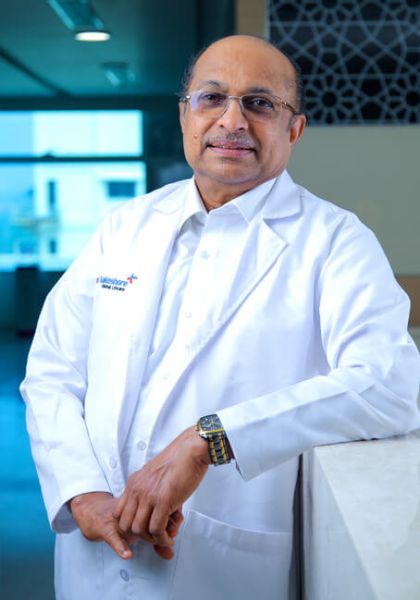 Dr. George P. Abraham
HOD, Sr. Consultant Urology and Renal Transplant