Accident & Emergency
99616 30000


Qualification
MBBS, DNB(Surg), DNB (Plast. Surg.), ISTP (UK) fellow (Burns and MicroSurg)
Experience
Dr Abhijeet Wakure undertook training in General Surgery in Mumbai and in Plastic Surgery at the Amrita Institute of Medical Sciences, Kochi.
He underwent further training in the form of Fellowship in Burns and Fellowship in Breast Reconstruction and Microsurgery at the St Andrew's Center for Burns and Plastic Surgery, Chelmsford, UK.
He has completed the ISTP program of the Royal College of Surgeons, London.
Previously he has worked as Clinical Associate in General Surgery at Seven Hills hospital, Mumbai and as Senior Registrar in Plastic Surgery and General Surgery at Amrita Hospital Kochi.
He also worked as Senior Specialist in Plastic Surgery at Aster Medcity Kochi.
He has been working as a Consultant Plastic Surgeon at VPS Lakeshore Hospital and research center since 2018.
Other Information
Dr Abhijeet Wakure has published several scientific papers in peer reviewed journals and textbook chapters. He has presented several scientific papers at national and international conferences.
He has been awarded the Best Paper Awards for trainees at the state and the national level.
He was an integral part of the team that performed the first 2 Bilateral Hand Transplants in South-East Asia.
His areas of interest include Reconstructive Microsurgery, Treatment of acute burns, Burns reconstruction, Breast reconstruction and Aesthetic Breast surgery, Hand and lower limb trauma reconstruction, Head and Neck cancer reconstruction.
Selected Publications
Sharma M, Wakure A. Scar Revision. Indian J PlastSurg 2013; 46:408-18.

Sharma M, Wakure A,Thankappan K, Mathew J, Jairaj D, Dudipala RR, Iyer S. Anatomic basis for an algorithmic approach for free fibula flap donor side selection in composite oro- mandibular defects. Indian J PlastSurg 2015;48:43-7.

Mohit Sharma, Abhijeet Wakure, S. Vidyadharan, SubramaniaIyer. Head and neck reconstruction. In: Thankappan K, Iyer S, eds. Basic Concepts in Head & Neck Surgery and Oncology. New Delhi: Jaypee Brothers Medical Publishers, 2015. pp 237-251.

Sharma M, Iyer S, Kishore P, Mathew J, Reddy R, Ramu J, Vijayaraghavan S, Wakure A, Mali Chetan SM, Varma V, Chaudhari A, Dhake S, Omkumar A, Paul J, Rajan S, Nair A, Shaji D. First two bilateral hand transplantations in India (Part 2): Technical details. Indian J Plast Surg. 2017 May-Aug; 50(2):153-160.

Shanmugakrishnan Raja, Loh Charles, Wakure Abhijeet & El-Muttardi, Naguib. Serial abdominal closure with Gore-tex mesh and Rives-Stoppa for an open abdomen secondary to intra-abdominal hypertension in burns. Indian J Plast Surg. 2018 Sep-Dec; 51(3): 324–326.

Subramania Iyer, Jimmy Mathew and Abhijeet Wakure. Maxillary reconstruction after ablative surgery. In: KaroonAgrawal, Surajit Bhattacharya eds. Textbook of Plastic, Reconstructive and Aesthetic Surgery Volume 3. Delhi:Thieme Medical and Scientific Publishers Private Limited, 2019. pp 649-667.

Kapila AK, Wakure A, Morgan M, Belgaumwala T, Ramakrishnan V. Characteristics and outcomes of primary interposition vascular grafts in free flap breast reconstruction [published online ahead of print, 2020 May 26]. J PlastReconstrAesthet Surg. 2020;S1748- 6815(20)30223-0.

Phillips GSA, Nizamoglu M, Wakure A, Barnes D, El-Muttardi N, Dziewulski P. The Use Of Dermal Regeneration Templates For Primary Burns Surgery In A UK Regional Burns Centre, Ann Burns Fire Disasters. 2020; 33(3):245-252, Wakure A, Omkumar A., Tharayil J. (2020) Clinical Examination of the Hand and Fingers (Basic and Surface Anatomy) with Special Tests. In: Iyer K., Khan W. (eds) Orthopedics of the Upper and Lower Limb. Springer, Cham.

Click Here

Sharma M, Wakure A, Guin D, Reddy G S, Iyer S. Triple clip anastomosis - A novel microvascular coupling technique. J Plast Reconstr Aesthet Surg. 2021 Sep; 74(9):2392-2442. doi: 10.1016/j.bjps.2021.03.069. Epub 2021 Apr 9. PMID: 33896744.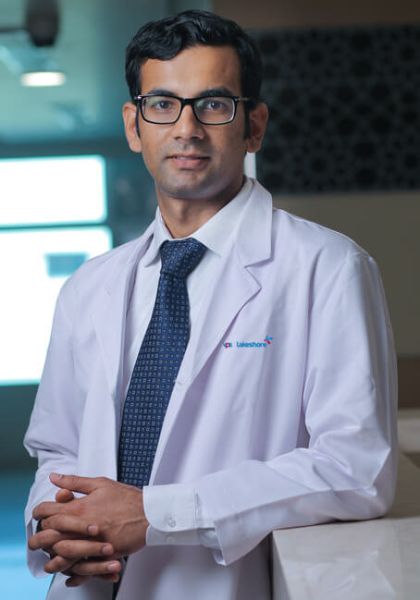 Dr. Abhijeet Wakure
Consultant