Accident & Emergency
99616 30000


Qualification
MBBS, MD (Dermatology)
Experience
Dr. Abin Abraham Itty is the Consultant Dermatologist and HOD of Dermatology at VPS Lakeshore, Kochi.

He has comprehensive training in General Dermatology, Cosmetology, Dermato-surgery, Pediatric Dermatology, Immuno-dermatology, and Allergy.

He is also specially trained in Laser Procedures, PRP Therapy and Injectables.

Formerly, he was the Asst Professor in Dept of Dermatology, Kannur Medical College, Kannur - A Post Graduate training Institution with active academics involving teaching of Undergraduate & Post Graduate students apart from routine clinical responsibilities.



Other Information
Dr. Abin has presented research studies in International conferences like the International Congress of Dermatology and Annual general meeting of British Association of De rmatologists, Glasgow, UK.




He has done original clinical research studies in urticaria & food allergy (Type 1 Hypersensitivity),

Exfoliative Dermatitis and sexually transmitted Diseases. He was also actively involved in a research

paper of psoriasis.

His Research article on Disseminated Histoplasmosis was selected for Award as one among three

best papers in CUTICON conference.

Experienced in General Dermatology, Medical Cosmetology and Dermato-surgery.

Treating more than 7000 patients with skin diseases and aesthetic problems annually.

Special Interest in Immuno-dermatology and allergy testing.

Well versed in doing aesthetic procedures like PRP(Platelet Rich Plasma), Peeling, Injectables & Laser therapy in a scientific manner.

Good experience in treatment of auto-immune diseases with Biologicals.

Actively involved in clinical research on psoriasis, STI (Sexually Transmitted Infections), Exfoliative dermatitis etc and has presented many papers in International and National conferences.
Professional Affiliations :

Life member of Indian Association of Dermatologists, Venereologists & Leprologists (IADVL)

Member of World Allergy Association (WAA)

Life Member of Indian Medical Association (IMA)

L

ife member of Association of  Cutaneous  Surgeons in India (ACSI)

An active member of the International  Trichoscopy society (ITS)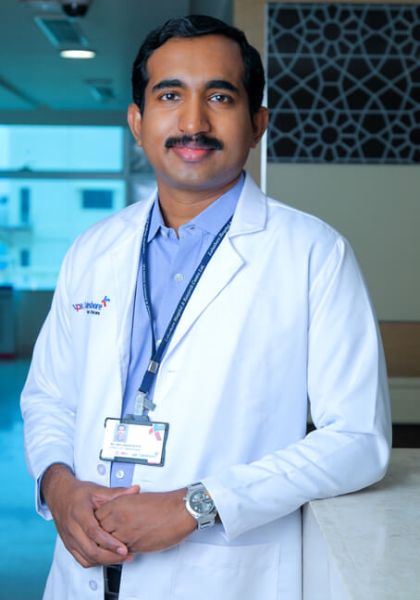 Dr. Abin Abraham Itty
Consultant & HOD Dermatology