Accident & Emergency
99616 30000


Qualification
MD, DM (Cardiology), FESC, FACC, FSCAI, Fellowship by Royal College of Physicians (FRCP)
Experience
Worked as Consultant Interventional Cardiologist at Yashoda Hospital, Hyderabad from 2003 to 2005.

Credited with starting the First 24 hour enabled Primary Angioplasty center in Central Kerala in 2006 at Lakeshore Hospital.

Did the first across joint peripheral angioplasty in South India using flexible stent technology in 2009.

Started the first Advanced Hypertension Clinic in Kerala in 2006 with 24-hour Ambulatory BP monitoring service.

Served as Principal investigator for over 10 multinational multicentre clinical trials.
Other Information
Adult interventional Cardiac procedures including Coronary Angiogram and Angioplasty.

Angioplasty for leg arteries for patients with Diabetic foot.

Angioplasty of head and neck arteries for prevention and treatment of stroke.

Keyhole valve replacement without surgery for blocked heart valves.

Performed more than 3000 Coronary Angioplasty procedures.

Performed more than 900 complex angioplasty procedures using Rotablation, Intravascular Ultrasound, FFR and other Angioplasty optimisation technologies.

Was awarded Fellowship by :

European Society of Cardiology (FESC) in 2013.

American College of Cardiology (FACC) in 2015.

Society of Cardiovascular Angiography and Interventions (FSCAI) and Royal College of Physicians (FRCP) in 2018.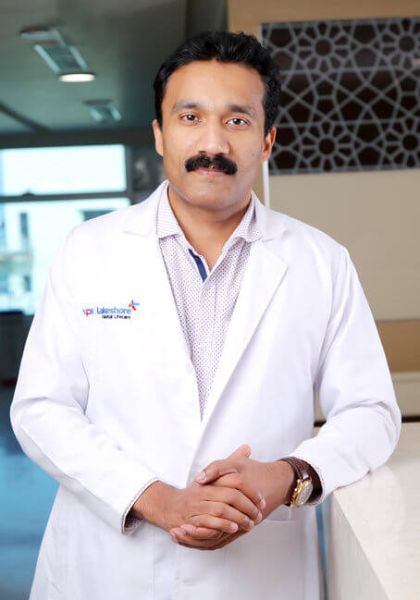 Dr. Anand Kumar V
Senior Consultant & HOD