Accident & Emergency
99616 30000


Qualification
MBBS,D.Orth ,MS.(Orth), M.Ch (Orth)
Experience
MBBS 1985 Kasturba Manipal College Manipal
D.Orth 1988
MS Orth 1989  Kasturba Medical College Manipal
Mch orth 1995  from Liverpool University
Down Corning Upper limb fellowship 1995
Orthopaedic training in joint replacement and sports injuries at Robert Jones and Agnes Hunt orthopaedic hospital, North Staffordshire university hospital, Wrightington hospital Wigan and Wrexham Maelor hospital from 1990 to 1994.  He did his Upper limb Fellowship from Wrightington, NHS Trust Wigan UK 1995.

Primary interests are in Joint preservation(Biologics and Mesenchymal Cells) Sports injuries and joint replacement of the upper and lower limb.

Research interests are in enhanced augmented techniques in meniscal & Cartilage repairs, ACL repairs and biological ACL reconstruction, and multi-ligament reconstructions of the knee.
Past Appointments:
Senior Consultant in Adult reconstruction unit at Amrita Institute of Medical Sciences, Kochi.2000 to 2007
Senior Consultant and as Head of the unit of sports injuries at Khoula Hospital, Oman.2012 - 2016
Visiting Consultant in Aster Hospital Ghubra, Oman 2011 to 2016
Consultant, North Staffordshire University Hospital, Stroke on Trent, UK. 2005 to 2006
Other Information
3 decades of experience and a pioneer in the field of Joint Replacement & Sports Injuries in Kerala. Started the first dedicated adult reconstruction unit in the state.

In 2000, he was the first surgeon to start revision joint replacement and meniscal repairs and performed the first Arthroscopic surgery for shoulder, elbow and wrist disorders in the state. 
He has the largest series of biological ACL (more than 3000) and revision ACL and multi-ligament reconstructions in the state and is the pioneer in chondrocyte and mesenchymal stem cell implantation in cartilage injuries and injection of biologicals for osteoarthritis (Sankine, SVF, LP- PRP and LR-PRP). 

Memberships

ISAKOS, International society of arthroscopy, Knee Surgery and Orthopaedic Sports Medicine
AAOS-American academy of orthopaedic surgeons
ICRS - International cartilage research society
AAHKS American Association of Hip and knee surgeons
APAS - Asia Pacific arthroplasty Association
AFSM - Asian Federation of Sports Medicine
IOA -Indian Orthopaedic Association
IAS- Indian arthroscopy society
SKI - Society of Knee Surgeons in India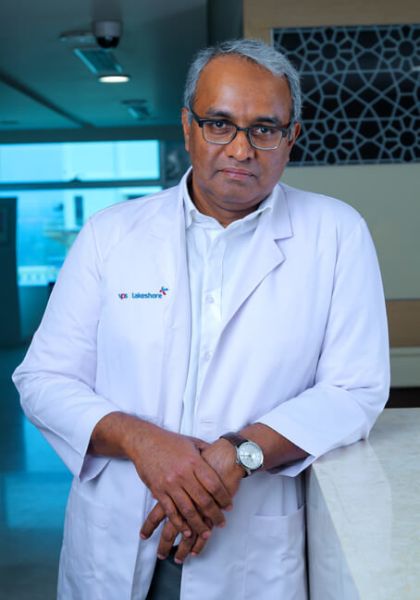 Dr. Jacob Varghese
Senior Consultant & HOD, Director Of Orthopaedics and Department of Joint Replacement & Sports Medicine