Accident & Emergency
99616 30000


Qualification
MD, FICA, FICCM
Experience


Trained in Critical Care from 1988 to 1996 at the Armed Forces Hospital in Oman under Dr. M. F Dawood.

Assisted the American troops in the 1991 Iraq –Kuwait War, American Contingency Hospital 708 Hospital the 3rd Triage Hospital from the war zone.

Trained in Critical Care under Dr. Bill Sibbald, at the Sunnybrook Hospital in Toronto.

Observer in Neuro-Critical Care at McGill, Montreal.

Trained in Liver Transplantation Anesthesia & Critical Care from John Hopkins, Baltimore.
Other Information


The

senior most Intensivist in the corporate hospital sector of Kerala & considered a pioneer of critical care in Kerala.

An Anesthesiologist of repute, he was the 21st qualified Anesthesiologist in the state of Kerala.

Has set up three departments of Anesthesiology in Kerala which are still considered outstanding in their performance.

Founder President, Indian Trauma Life Support Society 2001.

Founder President Indian Society of Critical Care Medicine, Kochi Chapter in 2006.

World Health Organisation Observer in International Trauma Care.

Teacher for National Board in Anesthesiology, Teacher for Indian Society of Medicine, Critical Care Courses. Instructor for Comprehensive Trauma Life Support Courses.

Member Society of Critical Care Medicine, U.S.A.

Member European Society of Critical Care Medicine.

Has been an International Speaker in Critical Care Medicine.

Currently President Elect Trauma Care International, Indian Chapter.

Organizing Chairman, National Conference of Critical Care Medicine 2017.
Academic:
Has Publications in Leading Journals.

Teacher National Board in Anesthesia.

Teacher for Indian Diploma in Critical Care Medicine, Certified by the Indian Society of Critical Care Medicine (ISCCM).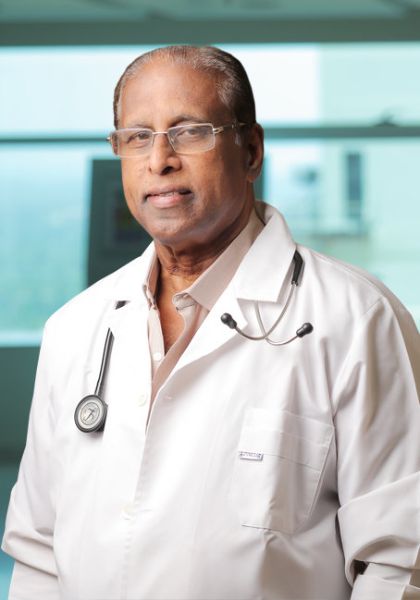 Dr. Mohan A Mathew
Senior Consultant, Director & Head Of Anaesthesiology & Critical Care & Chief of Staff