Accident & Emergency
99616 30000


Qualification
BDS, MDS, Fellowship Head & Neck Surgical oncology
Experience
Dr Naveen B.S. obtained Fellowship in Head & Neck Surgical Oncology at Narayana Health, Mazumdar Shaw Cancer Centre, Bangalore and spent quality time there in getting trained in diagnosing, treatment planning, surgical exercise, post operative management of various kinds of malignancies of head and neck.

He has also attained AOCMF Fellowship from Hannover, Germany, where he got exposed to maxillofacial reconstruction, aesthetic surgery, use of navigation technology in planning surgery for maxillofacial region.

Worked as Senior Resident in the Department Of Neurosurgery at Manipal Hospital, Bangalore.





Served as Registrar - Head and Neck Oncology at Mahatma Gandhi Cancer Hospital, Miraj (Maharashtra).

Worked as Observer at Mazumdar Shaw-Narayana Hrudayalaya Cancer Hospital, Bangalore.
Other Information
Comparison of outcomes of Modified Millard's incision and Delaire's functional method in primary repair of unilateral cleft lip- prospective study. Journal of Maxillofacial and Oral surgery, vol 15, issue 2, June 2016, 221- 228.

Laryngotracheal pleomorphic adenoma- Rare entity. International journal of phonosurgery and laryngology, July- December 2015, 5(2): 70-72.

A Large Superior Mediastinal Mass: "Terrible Thyroid Cancer". Journal of Endocrinology and Metabolism, 2016; 6(1): 27-29.

Elevated urinary levels of PGE-M are found in tobacco users and indicate poor prognosis for oral squamous cell carcinoma patients, Cancer Prevention Research, June 2016, 9:6 428-436

Estimation Of Thyroglobulin In Lymph Node Aspirates: Pilot Experience From Tertiary Referral Cancer Centre, Indian Journal Of Endocrinology and metabolism, May-June 2016, vol.20 Issue 3, 359-363.

Bi paddled radial forearm flap in the reconstruction of bilateral buccal mucosa defects- case series. Shivanand, Naveen B. et al. Oral Surgery, Oral Medicine, Oral Pathology and Oral Radiology, Volume 122 , Issue 4 , e107 - e109

Perforator Peroneal artery flap for tongue reconstruction- Technical note. Journal of maxillofacial and oral surgery, March 2017, vol 16(1), 123-126.

Islanded facial artery myomucosal flap for tongue reconstruction. International journal of oral and maxillofacial surgery, April 2017, vol.46, issue 4,453-455.

Contralateral islanded facial artery myomucosal flap for the reconstruction of floor mouth defect. Craniomaxillofacial trauma and reconstruction .Accepted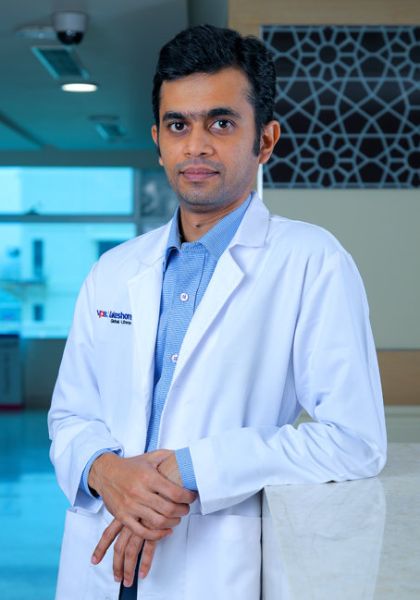 Dr. Naveen B.S.
Senior Registrar - Head & Neck Surgical Oncology