Accident & Emergency
99616 30000


Qualification
MBBS, DNB, MNAMS, DipALS, FAIS, FIMSA, FCLS, FRCS( GL)
Other Information
Dr. R. Padmakumar is Senior Consultant & HOD of Minimally Invasive Surgery Department. He has been changing lives through Keyhole Surgery. He is renowned for new and improved treatment techniques, hailed as a leading Obesity Surgeon in India & UAE. He has got more than 20 years of hands-on experience in Laparoscopic Surgery in major hospitals across India and has completed more than 6000 cases of Laparoscopic Hernia Surgeries. With national and international repute, he is one of the pioneers in performing surgical treatment of non-obese diabetics.
He is the first surgeon to win approval from the UAE's Ministry of Health to conduct Keyhole surgery for diabetes.
He has the unique distinction of being an expert Bariatric surgeon who is highly skilled in endoscopic thyroidectomy, thoracoscopy, laparoscopic colorectal and hernia surgery as well.
Specialist in Laparoscopy, Hernia, Cancer, Endoscopic Thyroid Surgery, Thoracoscopy, Obesity, Diabetic Surgery & Intragastric Balloon
His achievements include:
First to start diabetes mellitus surgery in the state for the non-obese category(Fifth in the World)
First in the world to do bariatric surgery with abdominoplasty
First surgeon in entire GCC Countries to do diabetic surgery in non- obese patients
One of the few surgeons in the world doing scarless Thyroid Surgery(Endoscopic Thyroidectomy)
World record on successful bowel surgery at 2gm Hb without blood transfusion
Inventor - Innovative technique MISII (Minimally Invasive Surgery for Ileal Interposition) HYBRID technique.
World record – Branchial Cyst Endoscopic removal in the youngest age (Omani child of 3 years old).
Recipient of 'Excellence in Laparoscopy' Award from Icons of Healthcare, Singapore in July 2017.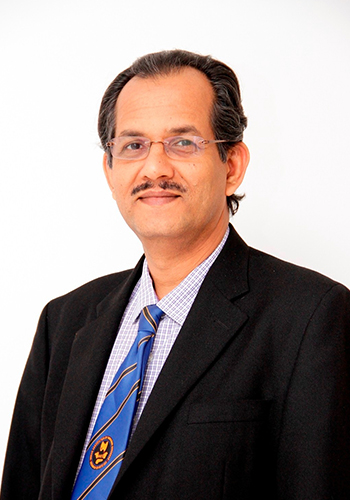 Dr. R Padmakumar
Senior Consultant