Accident & Emergency
99616 30000


Qualification
HOD-Paediatrics, MBBS, MD (Paediatrics), EPIC (Critical Care), PG Dip (Paediatric Infectious Diseases), DAA (Allergy)
Experience
Started career as a resident paediatrician at an exclusive children's hospital in Kenya.
Later joined the University of Nairobi - Kenya, as Lecturer and Consultant Paediatrician, in the Department of Paediatrics and Child Health, Faculty of Medicine.
Established the first Paediatric Critical Care Unit at the tertiary level national hospital, the first of its kind in Kenya, which led to a tremendous impact in outcome among critically ill children who previously could not access such services.
Continued as the Unit Head and in-charge, Paediatric Critical Care Unit, at the National Hospital in Kenya.
Spearheaded development and successfully launched the Paediatric Critical Care fellowship programme in Kenya, in collaboration with University of Washington, USA.
Involved as a teacher and exam coordinator in undergraduate, postgraduate and fellowship training programmes.
Involved in the management of critically ill children as a visiting Paediatric Critical Care, ID and allergy consultant, at various private hospitals in Kenya.
Other Information
For more than a decade, work focus has been on the development of Paediatric Critical Care services in Kenya, with awareness talks at various forums, both locally and internationally.
Executive member of the Global Initiative for Child Surgery (GICS), involved in the development of guidelines and policies for the care of critically ill children needing surgical care in developing countries.
She is a member of the standard working committee of the International Pediatric Association (IPA), towards the development of pediatric training and curricula, which encompasses the Sustainable Developmental Goals (SDG) framework
Involved in Antibiotic Guidelines and Antimicrobial Stewardship in PICU and Paediatric wards.
Has to her credit, supervised more than 30 post-graduate student dissertations to completion.
She has been a Principal Investigator in clinical trials and has 28 publications in peer-reviewed journals.
She is a contributor/ reviewer in two emergency and critical care textbooks, currently used as training materials and modules for Paediatricians.
She has served as an invited faculty/speaker in about 20 international forums and conferences.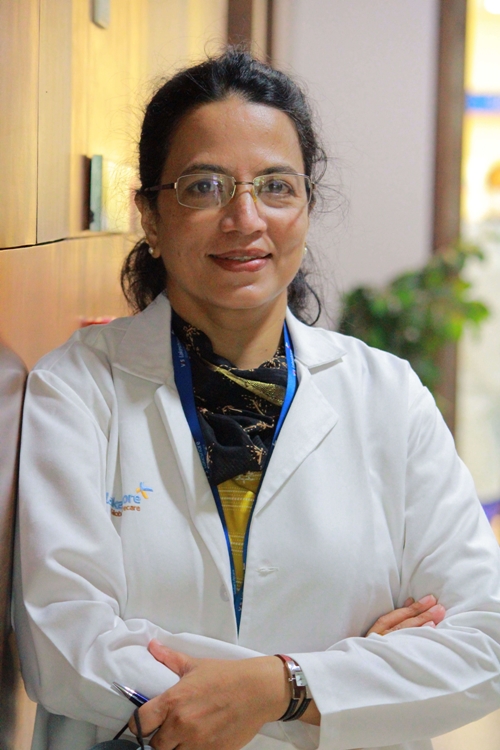 Dr Rashmi V Nair
HOD-Paediatrics, Senior Consultant