Accident & Emergency
99616 30000


Qualification
MBBS, MS (ENT), DNB (ENT), MCh (Head & Neck Surgery)
Experience
Dr Shawn went on to do Post Doctoral Certified Training in Surgical Oncology and Senior Residency in Surgical Oncology from Tata Memorial Centre, Mumbai, which is considered the apex cancer institute in India. After this he went on to do MCh in Head and Neck Surgery, when he was trained in Micro vascular reconstruction of Head and Neck. Dr Shawn T Joseph started the Head and Neck Surgical Oncology Department at VPS Lakeshore Hospital in July 2014. Since then the department has grown and developed into one of the finest in the country capable of handling the most complex head and neck cancer cases. It is one of the few Head and Neck units in the country which does the entire spectrum of head and neck cancer surgeries like microvascular reconstruction, transoral laser surgeries for larynx cancers and endoscopic skull base surgeries. During this period he has developed a strong Head and Neck Cancer Disease Management Group by close collaboration with departments like Medical Oncology, Radiation Oncology, Nuclear Medicine, Plastic and Reconstructive Surgery, Oral and Maxillofacial Surgery, Neurosurgery, Pathology, Radiology, Endocrinology and Rehabilitation Sciences. The Head and Neck Surgical Oncology Department at VPS Lakeshore has performed more than 2000 major head and neck cancer surgeries of all levels of complexity during the last five years. To keep a track on the Head and Neck cancer scenario in the community and to improve outcomes, data of all the surgical outcome measures of patients are documented for periodic analysis and improvement. The outcomes at the Head and Neck Surgical Oncology Department at VPS Lakeshore, measured in terms of surgical margin clearance and survival figures match the best internationally. He is a strong proponent of " No facial scar surgery for oral cancer" which aims to avoid facial incisions whenever possible for patients with oral cancer. The Head and Neck Surgical Oncology Department here has the largest series islanded facial artery myomucosal flaps in India, which is a reconstruction method providing like for like reconstruction in head and neck mucosal defects. The Head and Neck unit, under his leadership performed a complex microvascular reconstruction for restoring voice after partial laryngectomy in larynx cancer, which was a first in India. He was also the leader of the team which described "TAMMIL", a new surgery for preserving voice in selected larynx cancers, for patients in whom complete removal of voice box was the only option available before. The technique was published in top peer reviewed international journals. He is the founder Director of the " Institute of Head and Neck Sciences", at VPS Lakeshore Hospital. He initiated " Kocher's Club", which is an academic club meant for promoting discussion and innovation in Head and Neck Sciences.
Other Information
Memberships
Life member of Indian Medical Association

Life member of Foundation for Head and Neck Oncology

Life member Skull Base Society of India

Life member Indian Society of Reconstructive Microsurgery

Member of Association of Otolaryngologists of India, Cochin, Kerala

Affiliate member, AOCMF
Awards
First rank with GOLD MEDAL in Master of Surgery (Otorhinolaryngology) from Gujarat University in 2007.

International Travel Grant from the Department of Science and Technology, May 2012.

Won award at the AOI, Gujarat State Branch Conference,2006 for the study "ENDOSCOPIC REPAIR OF CEREBROSPINAL FLUID RHINORRHOEA: A STUDY"
Thesis
During the residency program in ENT, conducted a study on the uses of Laser in laryngeal surgeries.

The study was submitted as thesis to the Gujarat University and was accepted in 2007.
Publications
Joseph ST, Naveen BS, Mohan T M, Tharayil T J. Tracheal advancement with myomucosal island flap for partial laryngopharyngectomy defect reconstruction. Head Neck. 2018 Apr;40(4):E40-E44.

Joseph ST, Tharayil J, Mihir MT, Naveen BS. Endoscope-assisted conservative resection and reconstruction in recurrent subglottic carcinoma. Head Neck. 2018 Apr;40(4):E36-E39.

Joseph ST, Naveen BS, Mohan TM. Islanded facial artery musculomucosal flap for tongue reconstruction. Int J Oral Maxillofac Surg. 2017 Apr;46(4):453-455.

Joseph ST. Islanded facial artery musculomucosal flap for tongue reconstruction: reply to the comment. Int J Oral Maxillofac Surg. 2017 Aug;46(8):1061.

Shivanand NB, Mohan MT, Joseph ST. Contralateral Islanded Facial Artery Myomucosal Flap for the Reconstruction of Floor of the Mouth Defect. Craniomaxillofac Trauma Reconstr. 2018 Jun;11(2):157-160.

Shawn T. Joseph, Shetty Sharankumar, C.J. Sandya, Vidhyadharan Sivakumar, Peter Sherry, Thankappan Krishnakumar, Iyer Subramania. Easy and Safe Method for Facial Nerve Identification in Parotid Surgery. J Neurol Surg( Skull Base), May 2015.

Joseph ST, Thankappan K, Buggaveeti R, Sharma M, Mathew J, Iyer S. Challenges in the reconstruction of bilateral maxillectomy defects. J Oral Maxillofac Surg. 2015 Feb;73(2):349-56.

Shawn. T. Joseph, Krishnakumar Thankappan, Mathew J, Sharma M, Manju V, Subramania Iyer. The Defect Components and Reconstructive Options in Composite Orbito-maxillary Defects with Orbital Exenteration. Journal of Oral and Maxillofacial Surgery (In Press Accepted Manuscript; May, 2014).

Shawn. T. Joseph, Krishnakumar Thankappan, Rahul Buggaveeti, Subramania Iyer. Pneumosinus Dilatans helping Sub-cranial Resection in a Patient with Advanced Ethmoid Malignancy. Craniomaxillofac Trauma Reconstr. 2015 Sep;8(3):218-20.

Joseph ST, Aravind T, Iyer S, Thankappan K. Comment on "A novel tumor: Specimen index for assessing adequacy of resection in early stage oral tongue cancer" by Montero PH, Palmer FL, Shuman AG et al. [Oral Oncol 2014;50(3):213-20]. Oral Oncol. 2014 Apr 20.

Shawn T. Joseph, Krishnakumar Thankappan, Subramania Iyer, Reconstruction of a Combined Maxillectomy and Segmental Mandibulectomy Defect in a Seven-Year- Old with a Single Free Fibula Osteocutaneous Flap. Craniomaxillofac Trauma Reconstruction. January, 2016

Shawn T Joseph, Aliasgar V Moiyadi, Deepa Nair, Prashant V Pawar, Prathamesh S Pai. Special Considerations in Esthesioneuroblastoma of Sphenoclival Region. . International Journal of Head and Neck Surgery, September-December 2012: 3(3): 158-162.

Shawn T Joseph, Aliasgar V Moiyadi, Prathamesh S Pai, Deepa Nair. Schwannomas along Different Segments of Facial Nerve: Case Series with Review of Literature. International Journal of Head and Neck Surgery, May- August 2011: 2(2): 103-108

Shawn T Joseph, Neena H Bhalodiya, Ratnadeep Ghosh. Simultaneous Cerebrospinal fluid otorrhea and rhinorrhea as a cause of recurrent meningitis in a patient with cochlear dysplasia. European Journal of Pediatrics, March 2012.

R Vishwakarma, T Joseph Shawn.Cochlear Implant in Cogan´s syndrome (Original Review article); European Archives of Oto- Rhino- Laryngology, Head and Neck Surgery, 1121-1124, Oct 2006.

T Joseph Shawn, R Vishwakarma, MK Ramani, R Aurora. Cochlear implant and delayed facial palsy( Original Review). Cochlear Implant International (Official journal of the British Cochlear Implant Group), Feb, 2009.

R Vishwakarma, More Yogesh, T Joseph Shawn. Incudostapedial joint arthroplasty using temporalis fascia/perichondrium ties; American Journal of Otolaryngology, 171-175, May 2009.

N H Bhalodiya, T J Shawn. CSF Rhinorrhoea: Endoscopic Repair Based On A Combined Diagnostic Approach; Indian Journal of Otorhinolaryngology and Head and Neck Surgery; 120-126, June 2009.

R Vishwakarma, T Joseph Shawn, Arpit Sharma, Rahul C Gupta. Endoscopic Removal of Sharp Foreign Bodies in Neck Using Image Intensified Television. International Journal of Head and Neck Surgery, May- August 2010: 1(2): 113- 116.

R Vishwakarma, TJ Shawn. Giant Frontal Osteoma: Case report with review of literature; Indian Journal of Otorhinolaryngology and Head and Neck Surgery. 2011, Volume 63, Supplement 1, Pages 122-126.

N H Bhalodiya, N Singh, Shawn T Joseph:Microdebrider in ENT; Gujarat Journal of otorhinolaryngology and head and neck surgery: 2, 1: 5

Joseph, S. T; Rajapurkar, M.; Thankappan, K.; CS. Sampathirao, L. M.; Kuriakose, M. Abraham; Iyer, S. Oncological and Functional Outcome of the Preserved Eye in Malignant Sinonasal Tumors (Conference abstract). Journal of Neurological Surgery Part B: Skull Base; Issue S 02, 2012

Joseph, S. T.; Thankappan, K.; Sampathirao, L. M. C.; Mathew, J.; Sharma, M.; Iyer, S.Orbital Exenteration Defect Reconstruction: Options and Outcome (Conference abstract) Journal of Neurological Surgery Part B: Skull Base; Issue S 02, 2012

Thankappan, K.; Sampathirao, L. M. C.; Sharma, M.; Joseph, S. T.; Iyer, S. Orbital Floor Reconstruction with Free Flaps after Maxillectomy (Conference abstract)Journal of Neurological Surgery Part B: Skull Base; Issue S 02, 2012

Thankappan, K.; Duraisamy, S.; Iyer, S.; Kuriakose, M. A.; Joseph, S. T. Craniofacial Resection for Malignant Paranasal Sinus Tumors: A Single-Center Experience (Conference abstract). Journal of Neurological Surgery Part B: Skull Base; Issue S 02, 2012

Shawn T. Joseph, Krishnakumar Thankappan, B Rahul, Sharankumar Shetty, L.M. Chandarasekhara Rao, Moni A. Kuriakose, Subramania Iyer. Reconstruction of bilateral maxillectomy defect (Conference abstract). OP036, Oral Oncology - 1 May 2013 (Vol. 49, Supplement 1, Pages S17-S18)
Papers presented in international conferences
"Combined Modality treatment in advanced cancers of larynx and hypopharynx: site wise differences in survival outcomes" at the World Congress on Larynx Cancer conducted at Cairns, Queensland, Australia, 26-30 July, 2015.

"Orbital exenteration defect reconstruction: options and outcome" at the 6th International Congress of the World Federation of Skull Base Societies and 10th European Skull Base Society Congress, 16-19 May, 2012, Brighton, UK.

"Oncological and functional outcome of preserved eye in malignant sinonasal tumours" at the 6th International Congress of the World Federation of Skull Base Societies and 10th European Skull Base Society Congress, 16-19 May, 2012, Brighton, UK.

"Reconstruction of bilateral maxillectomy defect" at the 4th World Congress of the International Academy of Oral Oncology, Rhodes Island, Greece, 15-18 May, 2013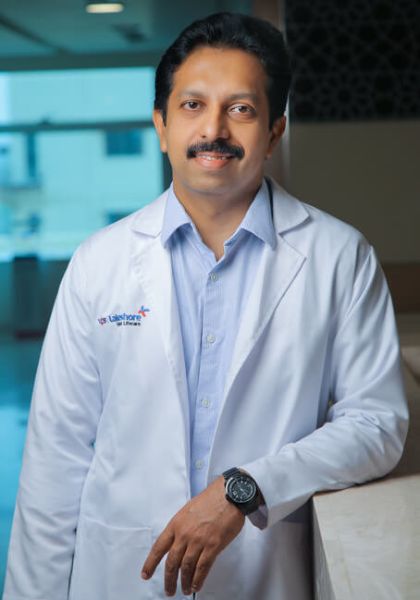 Dr. Shawn T Joseph
Senior Consultant - Surgical Oncology, Head & Neck and Director of Institute of Head & Neck Sciences (IHNS)