Accident & Emergency
99616 30000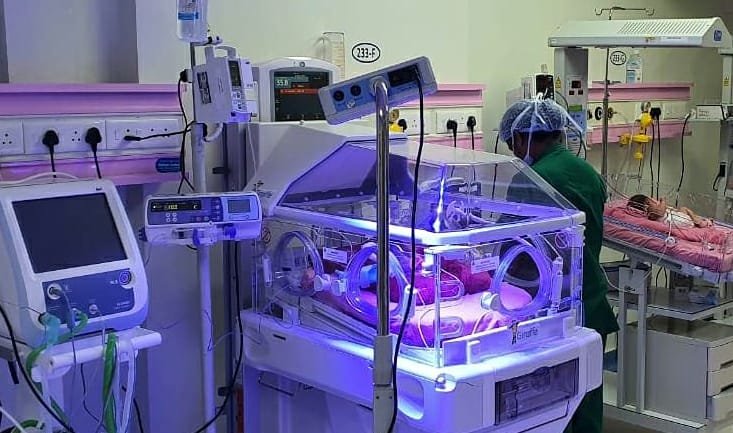 2020-10-19
Preterm Babies Care - Omnibed Incubator
The NICU of VPS Lakeshore is equipped with an advanced Giraffe OmniBed facility, a radiant warmer to take care of your infant in a controlled, stress-reduced environment, much like that of a mother's womb.
Babies born before the 37th week is known as a premature or preterm baby. Since these babies are at an increased risk to hypothermia, maintaining stable body temperature is essential for them and for their optimal growth. Therefore warming devices like radiant warmer (also called open care system) and closed incubators are used to take care of them. Also, for the care of extreme preterm low birth weight babies less than 1.5 kg, closed incubators are preferred for maintaining humidity and temperature.
What is Omnibed?
The Giraffe Omnibed is a combination system that brings together exceptional features of both a traditional incubator and a radiant warmer, so it truly can be at the centre of the workspace for your premature infants. It provides premature and ill babies with a controlled, stress-reduced environment, much like that of a mother's womb. It also helps regulate body temperature and features humidity control to avoid moisture loss through the delicate skin of the infant.
From delivery to discharge, the OmniBed Carestation is designed to address the changing and complex demands of the NICU by utilizing advanced technology to provide supportively, family-centred care solutions in a consistently-controlled thermal environment for flexible patients access, visibility, and reliable clinical performance.
The NICU of VPS Lakeshore is adequately set up and equipped with facilities to care of low birth weight preterm babies with advanced equipment like Giraffe OmniBed and advanced Ventilator like SLE 6000 and Dragger for Neonatal ventilation including high-frequency ventilation.