Accident & Emergency
99616 30000


Anesthesiology & Critical Care
Critical Care Treatment In Kochi.
The department of Anesthesiology and Critical Care at VPS Lakeshore is entirely devoted to the impeccable handling of patients' pre-operative care. Anesthesia and Post-Anesthesia services are precisely designed to suit every patient. With 10 operating suites including separate Joint Replacement and Cardiac Theatre, over 7000 surgeries are done here annually. 
Being recognized by the National Board as a center for Anesthesia and Critical Care Diploma of The Indian Society of Critical Care Medicine, the department conducts training courses for CPR, BLS, and ATLS. 


The Key Highlights of this Department are: 


Safe anesthesia procedures in all surgeries, for patients at any age.

Provides post-operative and chronic pain relief services.  

Safe and effective Epidural Analgesia for painless labor.
Dr. Mohan A Mathew
Senior Consultant, Director & Head Of Anaesthesiology & Critical Care & Chief of Staff
Qualification
MD, FICA, FICCM
Experience


Trained in Critical Care from 1988 to 1996 at the Armed Forces Hospital in Oman under Dr. M. F Dawood.

Assisted the American troops in the 1991 Iraq –Kuwait War, American Contingency Hospital 708 Hospital the 3rd Triage Hospital from the war zone.

Trained in Critical Care under Dr. Bill Sibbald, at the Sunnybrook Hospital in Toronto.

Observer in Neuro-Critical Care at McGill, Montreal.

Trained in Liver Transplantation Anesthesia & Critical Care from John Hopkins, Baltimore.
Other Information
Prime Areas of Service:
Shock and Cardiopulmonary resuscitation

Respiratory Failure

Multisystem Organ Failure (including Renal and Hepatic)

Sepsis 

Central Nervous System Crisis

Cardiac Failure

Transplantation of Liver & Kidney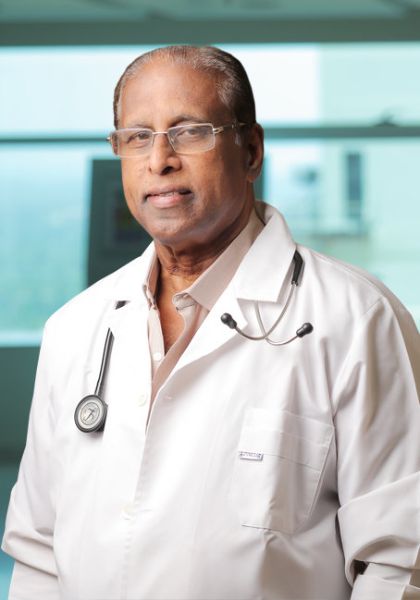 Dr. Mohan A Mathew
Senior Consultant, Director & Head Of Anaesthesiology & Critical Care & Chief of Staff