Accident & Emergency
99616 30000


Cosmetic & Plastic Surgery
Best Treatments in Cosmetic Surgery.
VPS Lakeshore hospital is the first and only hospital in Kerala with a dedicated full time cosmetic surgery department providing safe and proven surgical and non-surgical cosmetic surgery procedures.
The Following Services are offered in Cosmetic Surgery Clinic:
Body Contouring Procedures
Liposuction

Tummy tuck

Male breast reduction

Body contouring after massive weight loss

Thigh lift

Butt lift

Arms reshaping

Buttock reshaping 
Aesthetic Breast Surgery 

Breast augmentation

Breast reduction

Breast lift

Breast asymmetry correction
Cosmetic Surgery of the Face 
Facelift

Brow lift

Eyelid cosmetic surgery

Rhinoplasty

Facial implants

Chin augmentation

Double chin correction

Neck lift

Ear correction

Pimple scar treatment

Dimple creation
Hair Loss Treatment
Medical treatment for hair loss

Follicular unit hair transplantation
Non Surgical Cosmetic Procedures
Botox

Fillers

Non-surgical fat reduction
Plastic Surgery Department deals with all types of plastic surgery problems
Main areas of activity are as follows
Facial and hand injuries, Replantation of amputated parts, Congenital deformities of face and hands, Microvascular surgery, Reconstruction of deformities after injuries and cancer resections, etc.

We offer specialized services for Liposuction, Mini Tummy Tuck, Full Tummy Tuck (Abdominoplasty), Full Tummy Tuck with Hernia Repair, Breast Augmentation, Breast Reduction, Rhinoplasty (Nose correction), Breast lift (Ptosis correction), Bat Ear correction and Eyelid lift (Blepharoplasty).
Dr. Jose Tharayil
Senior Consultant
Qualification
MBBS, MCPS, MS (Gen. Surgery), FRCS (Lon)
Experience
Had initial training in plastic surgery at KEM Hospital, Mumbai.

Had training in plastic surgery at different centres in England such as Fleming Memorial Hospital and Newcastle General Hospital, Newcastle Upon Tyne, Yorkshire Regional Burns centre and Plastic Surgery Unit at Pinderfields General Hospital, Wakefield, Yorkshire, NorthEast Thames Regional Plastic Surgery and Burns Unit at St.Andrews Hospital, Billericay, Essex and Addenbrooke's Hospital attached to the Medical College, Cambridge.

Attended 3 day flap dissection course at Canniesburn Hospital, Glasgow.

Attended microsurgery laboratory course at Addenbrooke's Hospital, Cambridge.

Had microsurgery training at Chang Gung Memorial Hospital, Taiwan.

Worked as Consultant Plastic Surgeon in Medical Trust Hospital Kochi.

Worked as Consultant Plastic Surgeon in Ministry of Defence Hospital, KSA.

Worked at PVS hospital, KIMS, and Renai Medicity.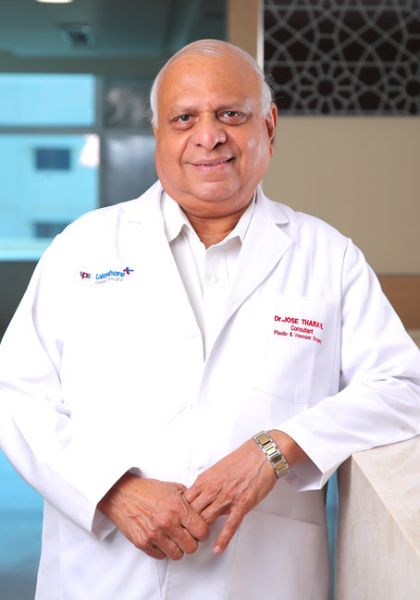 Dr. Jose Tharayil
Senior Consultant