Accident & Emergency
99616 30000


Head and Neck Oncology & Reconstructive Surgery
Best Head and Neck Rehabilitation Treatments in Kochi, Kerala, India
The Head and Neck Oncology & Reconstructive Surgery department at VPS Lakeshore has excellence in the evaluation and treatment of a wide spectrum of Head and Neck Malignancies. An experienced and efficient team of Head and Neck Surgical Oncologists, Radiation Oncologists, Medical Oncologists, Oncopathologists, Radiologists and Nuclear.
Medicine specialists manage and analyses all cases.

The case of each patient is discussed by a multidisciplinary team of doctors at the weekly tumor board meetings. To ensure the supportive care of patients, a Head and Neck Rehabilitation team which includes Speech therapists, Deglutologists(swallowing therapists), Physiotherapists, Nutritionist, and Psychologists are actively involved. The Head and Neck Surgical Oncology department at VPS Lakeshore has to its credit, many innovative resection and reconstruction techniques in the oral cavity and laryngotracheal reconstruction, which have been published in peer-reviewed international journals.
Key Highlights
No-facial scar surgery in Oral Cancers.

Minimal-access Neck dissection.

3D printing and reconstruction for jaw tumors.

Like for like reconstruction of tongue in tongue tumors.

All loco-regional and microvascular free flap reconstructive surgeries.

Parotid tumor surgery with the concealed incision.

Facial reanimation surgeries.

Facial nerve repair.

Thyroid disease management group.

Surgery of advanced thyroid malignancies and difficult recurrent cases.

Lateral skull base surgeries.

Skull base tumors- nasal endoscopic approach.

Skull base disease management group.

Endoscopic pituitary and intracranial tumor access surgeries.

Carbon dioxide laser treatment for early larynx cancers.

Conservative laryngeal surgeries.

Voice and speech rehabilitation services.

Complex Laryngeal reconstruction.

Laryngeal innervation surgeries.

Endoscopic secondary voice rehabilitation procedures for voice loss after total laryngectomy.

Adult and Pediatric Swallowing disorder management.

Objective swallowing evaluation services including FEES(Functional endoscopic evaluation of Swallowing) and VFSS(Video Fluoroscopic Swallow) procedures.

Onco- Phagosurgery.


Cricopharyngeal myotomy/myectomy.
Dr. Shawn T Joseph
Senior Consultant - Surgical Oncology, Head & Neck and Director of Institute of Head & Neck Sciences (IHNS)
Qualification
MBBS, MS (ENT), DNB (ENT), MCh (Head & Neck Surgery)
Experience
Dr Shawn T Joseph started the Head and Neck Surgical Oncology Department at VPS Lakeshore Hospital in July 2014. Since then the department has grown and developed into one of the finest in the country capable of handling the most complex head and neck cancer cases. It is one of the few Head and Neck units in the country which does the entire spectrum of head and neck cancer surgeries like microvascular reconstruction, transoral laser surgeries for larynx cancers and endoscopic skull base surgeries. The Head and Neck Surgical Oncology Department at VPS Lakeshore has performed more than 3000 major head and neck cancer surgeries of all levels of complexity during the last seven years.




During this period a strong Head and Neck Cancer Disease Management Group could be created by close collaboration with departments like Medical Oncology, Radiation Oncology, Nuclear Medicine, Plastic and Reconstruction Surgery, Oral and Maxillofacial Surgery, Neurosurgery, Pathology, Radiology, Endocrinology and Rehabilitation Sciences.




To keep track of the Head and Neck cancer scenario in the community and to improve outcomes, data on cancer and surgical outcome measures are documented for periodic analysis and improvement. The outcomes at the Head and Neck Surgical Oncology Department at VPS Lakeshore, measured in terms of surgical margin clearance and survival figures match the best internationally.




The head and neck oncology department at VPS Lakeshore practices " No facial scar surgery for oral cancer" which aims to avoid facial incisions whenever possible for patients with oral cancer. The Head and Neck Surgical Oncology Department here has the largest published series of facial artery-based myomucosal and bone flaps, which is a reconstruction method providing like-for-like reconstruction in head and neck mucosal defects. He was also the leader of the team which described "TAMMIL", a new surgery for preserving voice in selected larynx cancers, for patients in whom complete removal of the voice box was the only option available before. The technique was published in top peer-reviewed international journals. He has also described new surgical techniques in partial resection for larynx cancer and facial nerve identification.




He is the founder Director of the " Institute of Head and Neck Sciences", at VPS Lakeshore Hospital. He initiated " Kocher's Club", which is an academic club meant for promoting discussion and innovation in Head and Neck Sciences.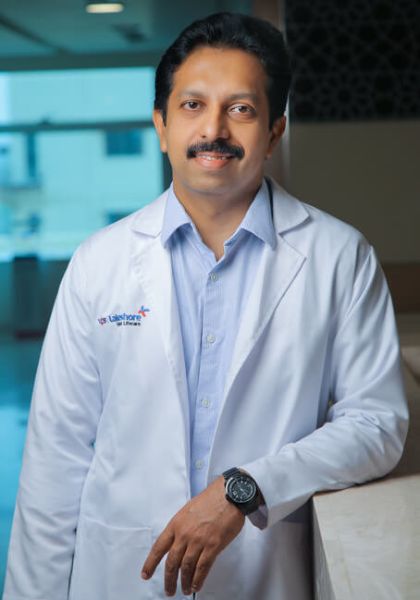 Dr. Shawn T Joseph
Senior Consultant - Surgical Oncology, Head & Neck and Director of Institute of Head & Neck Sciences (IHNS)