Accident & Emergency
99616 30000


Nephrology & Renal Transplantation
Nephrology Treatments in Kochi
The Department of Nephrology & Renal Transplantation is one of the premier renal centers in the country in terms of skill and experience. The department runs one of the most successful Renal Transplantation Programmes in the country, attracting patients from the entire state of Kerala, neighboring states as well as from abroad. Of the nearly 150-200 transplantation performed at the center every year many have complex issues (Sensitized, Elderly and Paediatric Transplantation).
The center has a large number of patients with Chronic Disease (CKD) on follow up and the comprehensive management strategies to reduce the progression of CKD is another highlight of the center. A large maintenance Haemodialysis program, CAPD program, 5 dedicated machines for performing CVVH, CVVHD and CVVHDF for critically ill patients are the other notable features. There is also an Anapheresis Machine based on the COBE Spectra system which plays an important role in desensitization therapy and management of humoral rejection. Renal biopsy service with immunofluorescence (in house neuropathologist) and electron microscopy is also available here.

State-of-the-art-hemodialysis Unit

Kidney Transplantation with Laparoscopic Donor Nephrectomy


Continuous Ambulatory Peritoneal Dialysis (CAPD)


Plasmapheresis


Haemoperfusion


Kidney Biopsy (Renal Biopsy) with in-house Nephropathologist and electron microscopy



Transplantation Clinic



Dr. Abi Abraham M
Director - Nephrology and Chief of Renal Transplant Services
Qualification
MD, DM, DNB, FISN, FASN, FRCP (UK)
Experience
Dr. Abi Abraham M has more than 25 years of experience both as a clinician and academician.

He has a wide range of experience in renal transplantation, critical care nephrology, vasculitis, lupus and electrolyte disorders.

He has been awarded three prestigious fellowships, has widely cited publications in peer-reviewed journals, memberships in many renal societies and held administrative positions in organizations.

He was the Associate Professor of Nephrology, Christian Medical College, Vellore.

Achievements





Managed nearly 1300 renal transplants in Lakeshore hospital in the last 10 years.

Successfully performed several complex kidney transplants including sensitized, re-transplant, elderly transplant and pediatric transplants.

Established a successful large maintenance dialysis programme.

Developed Lakeshore Hospital as the biggest set up for critical care nephrology and as the centre performing largest number of CRRT in the state of Kerala.
Other Information
Highlights of the department


Runs one of the most successful renal transplantation programs of the country
Expertise in performing high-risk renal transplantation
State-of-the-art-hemodialysis Unit
Five dedicated machines for Continuous Renal Replacement Therapy (CRRT) including CVVH, CVVHDF, and CVVHD
Dedicated apheresis machine for plasmapheresis
Continuous Ambulatory Peritoneal Dialysis (CAPD) and automated peritoneal dialysis (APD)
Kidney Biopsy with immunofluorescence (IF) and electron microscopy (em) with in house nephropathologist.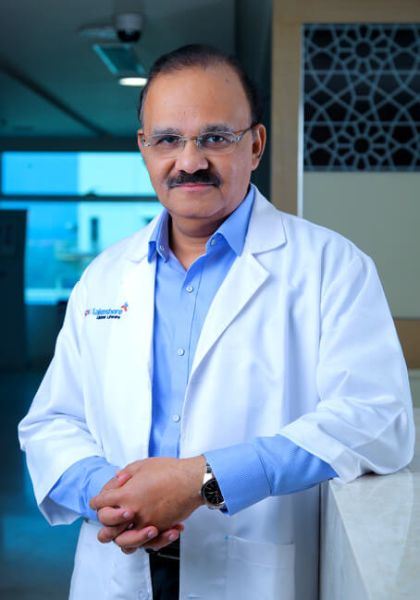 Dr. Abi Abraham M
Director - Nephrology and Chief of Renal Transplant Services