Accident & Emergency
99616 30000


Liver Transplant
PRIME TRANSPLANT DEPARTMENT IN KERALA
The Liver Transplant facilities at VPS Lakeshore Hospital, with an all-inclusive CLCI (Comprehensive Liver Care Institute), are the most sought after by people. Word has spread about the precisive surgeries performed by the best team of doctors equipped with the hospital's finest medical technology in transplantation along with the 94% success-rated surgeries during the COVID-19 pandemic. Care and importance are given to the pre-surgery and post-surgery days, hence the hospital has supported the department with excellent infrastructure with Green OTs, premium ICUs and comprehensive wards and suites (general & private) at affordable costs making VPS Lakeshore Hospital the most popular & sought-after centre for liver transplantations in the country.
THE BEGINNING OF SUCCESS
The first ever living donor transplantation in the state of Kerala was performed by VPS Lakeshore's team, on an 11-year-old boy. Since then, the liver transplant department has evolved until today, gathering an expert team of doctors and technology of having collectively performed more than 1,500 liver transplantations.
UNABATED PAEDIATRIC LIVER TRANSPLANT CENTRE
VPS Lakeshore Hospital has been performing an increasing number of paediatric liver transplantations ever since the hospital geared up for regular surgeries since the opening of the CLCI in May 2019. With contributions from cadaveric and living donors, the liver transplant department of VPS Lakeshore Hospital has been instrumental in successfully performing multiple complicated and rare paediatric transplantations right from that of a 6-month-old baby.
The Key Highlights of this Department are:
Performs all types of liver transplants i.e., orthotopic transplants, split donation from cadaveric donors; and living donor transplants as well

120 successful liver transplants during the COVID-19 pandemic (March 2020 – 2022)

90% of transplantations performed are living donor transplants

Proven record and testimonies of donors & receivers leading healthy lifestyles till date
Dr. Abhishek Yadav
Director – Comprehensive Liver Care (Surgery)
Qualification
MBBS; M.S(General Surgery),M.Ch. ( Surgical Gastroenterology), Fellowship in HPB Surgery and Liver Transplantation
Experience
More than 10 years of experience in HPB Surgery and Liver Transplantation

Worked as a Consultant in the unit of Liver Transplantation at Indraprastha Apollo Hospitals, New Delhi

Worked as a Consultant at Care Hospitals, Hyderabad 

Was instrumental in setting up Liver transplant programs at various centers across the country and abroad prominent one's being Sheikh Zayed Hospital Lahore Pakistan, and at Karachi where he was invited multiple times to perform transplant surgeries and to train the local surgeons.

Director of Liver Surgery and Liver transplantation at Lakeshore hospital.
Over 15 years of experience in liver surgery 
Performed over 1500 liver transplant surgeries
Success rate of transplant surgeries more than 90%
Expertise in living donor, split liver, paediatric and cadaver liver transplantation.
Performed many complex and rare liver surgeries.
Instrumental in setting up liver transplant programs in other centres across the country and internationally.
Pioneered many new innovations in liver surgery and transplantation.
Founder member of Indian Liver Transplant Society and a life member of International Liver Transplant Society Delivered many lectures in National and International meetings
Other Information
The Hepatobiliary center of the Lakeshore Liver Transplant department, performs a large volume of major liver resections for cancer, bile duct cancer, and repair of biliary strictures as well as shunt surgery for portal hypertension. Multimodality treatment for liver cancer including the use of key-hole surgery for guiding tumour ablation is also performed.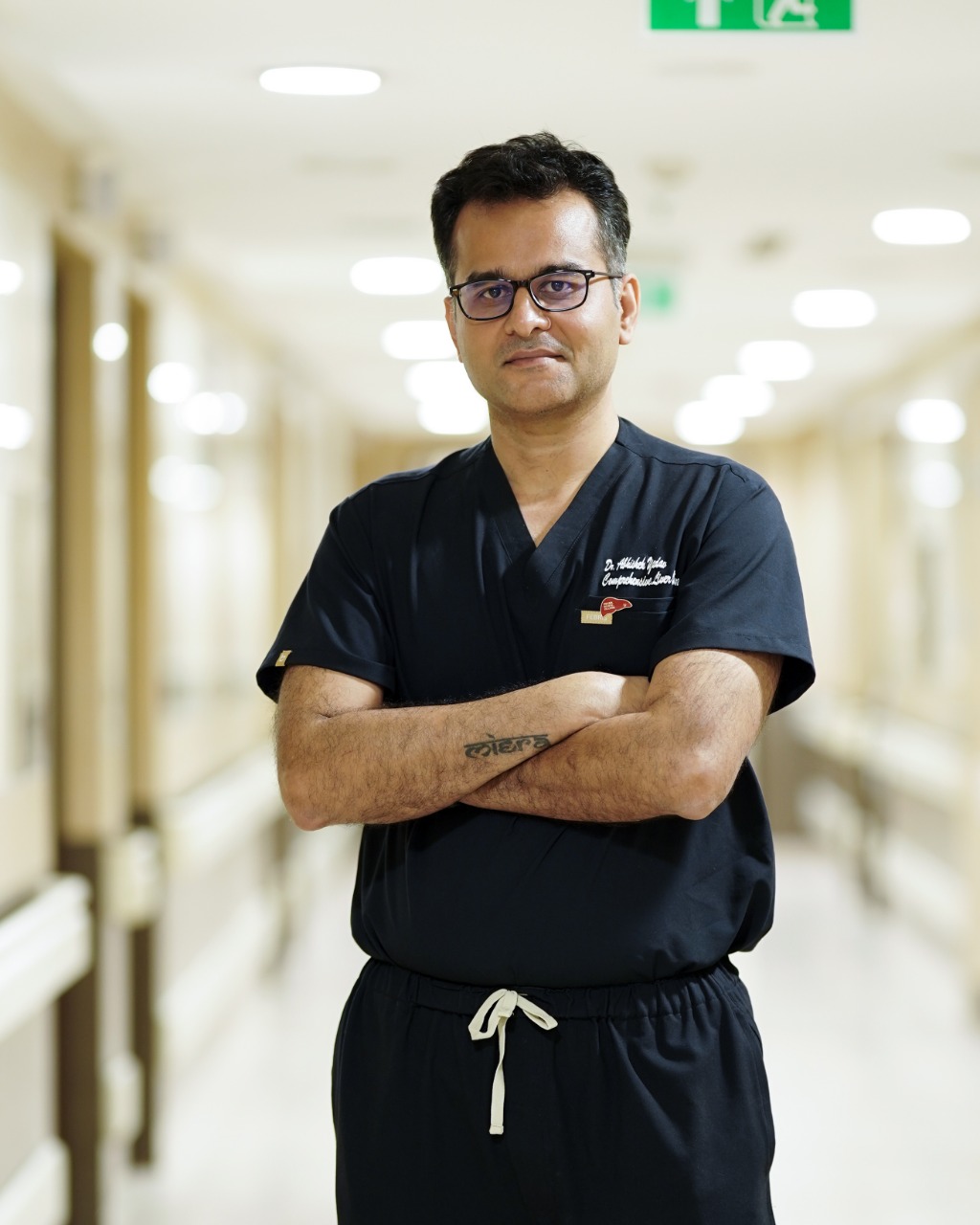 Dr. Abhishek Yadav
Director – Comprehensive Liver Care (Surgery)