Accident & Emergency
99616 30000


Surgical Oncology
Best Surgical Oncology Department In Kochi.
Surgical Oncology department at VPS Lakeshore Hospital maintains International standards in Cancer Surgery. Equal emphasis is given to cure and post-surgery quality of life by organ preservation and various types of reconstruction.

Specialized areas
Breast reconstructions both primary and delayed.
Microvascular surgery for head and neck cancer reconstructions and conservative approaches for craniofacial resections.
Limb salvage surgery with mega prosthesis for bone cancers, conservative lung surgeries and chest wall reconstructions.
Three-field lymphadenectomy and total esophagectomy for esophagus cancers.
Total peritonectomy for peritoneal malignancies.
Sphincter preservation and organ preservation in various Gastrointestinal cancers.
Dr. Chithrathara. K
HOD - Gynaec & Surgical Oncology
Qualification
MBBS, MD, MCh, FAIS, FACS
Experience
Postgraduate training of MD (Resident training in Obstetrics & Gynaecology) was done at the prestigious Safdarjung Hospital, New Delhi under Delhi University in 1983 and MCh (Genito-urinary Surgery) was done from Thiruvananthapuram Medical College under the University of Kerala in 1999 with excellent academic performance and become the first Lady Urologist in Kerala. She also had DNB Training in General Surgery from 2005-2007 from AIMS. She was awarded ICRETT fellowship Oncology in 1994, FAIS (Fellowship Association of Indian Surgeons) in 2012 and FACS (Fellow of American College of Surgeons) in 2016.

Currently working as HOD & Senior Consultant, Surgical & Gynec Oncology at VPS Lakeshore.

Role in Development of department: 







● The First Gynaecological Cancer Surgery division in Kerala was started in 1993 by Dr. Chitrathara at Regional Cancer Centre, Thiruvananthapuram, Kerala. ● First Genito-urinary surgery & endoscopy (Diagnostic and Therapeutic) started in 1999 by Dr. Chitrathara at Regional Cancer Centre, Thiruvananthapuram. ● Started gynecologic oncology fellowship programmes at Amrita Institute of medical sciences 1st of such in Kerala. ● Started gynaecological & surgical oncology at Lakeshore hospital, Kerala. ● Started Association of Gynecological Oncology Society of India recognised fellowship programme at Lakeshore hospital, 1st of its kind in Kerala.




SPECIAL TRAINING:




| | | | |
| --- | --- | --- | --- |
| 1. | Gynaecologic Oncology | Tata Memorial Hospital, Mumbai. | April – October 1992 |
| 2. | LEEP for Managing CIN | Jewish General Hospital, Montreal,Canada | 02.11.1994 to 01.12.1994 |
| 3. | Genito – urinary Surgery (Urology)  | Medical College Hospital, Thiruvananthapuram. | July 1996 to December 1996 |
| 4. | Renal Transplantation | Appollo Hospital, Chennai. | 1998 |





PROFESSIONAL  EXPERIENCE: 




1. Lecturer. Asst. professor and associate professor Surgical Oncology, Regional Cancer Centre, Thiruvananthapuram June 1990 - May 2003 2. Sr. consultant in surgical oncology, VPS Lakeshore Hospital, Kochi June 2003- October 2005 3. Professor of Surgical Oncology, Amrita Institute of Medical Sciences, Kochi July 2005 - December 2009 4. HOD & Sr. consultant in surgical & gynecologic oncology, Welcare Hospital, Kochi January 2010 – December 2017 5. HOD & Sr. consultant in surgical & gynecologic oncology, VPS Lakeshore Hospital, Kochi 2010 – present







PROFESSIONAL ACHIEVEMENTS:

1. First lady Urologist of Kerala.

2. Started Gynaecological Cancer Surgery at Regional Cancer Centre, Thiruvananthapuram in 1993. 3. Started Genito-urinary surgery & endoscopy (Diagnostic and Therapeutic) at Regional Cancer Centre, Thiruvananthapuram in 1999. 4. Editor of the book "Ovarian Cancer- comprehensive & contemporary management" published by Jaypee brothers in 2008 & contributed 5 chapters also in it. 5. Editor of the book "cervical cancer- comprehensive & contemporary management" published by Jaypee brothers in 2010& contributed 2 chapters in it. 6. Co-editor of the book "Uterine Cancer" Diagnosis and Management. Published by Springer, 2015. 7. Published Malayalam book " Sthreekalile Arbudam" in 2014. For public awareness. 8. Contributed two chapters for the book "state of art vaginal surgery" published in 2007. 9. Principle investigator of the project funded by Dst, Kerala "prostate cancer screening in Kerala- a pilot study" submitted in 2011. 10. Published about >30 papers in peer-reviewed journals. 11. Union International Cancer Congress ICRETT Fellowship was awarded in 1994. 12. Introduced Loop Electrosurgical Excisional Procedure (LEEP) at Regional Cancer Centre, Thiruvananthapuram and considerable work was being done in early detection and prevention of cervical cancer. 13. Co-investigator of the project of Dst Kerala " speculum examination in downstaging cervical cancer". 14. Awarded FAIS in 2012. 15. Awarded FACS - Fellow of the American College of Surgeons in 2016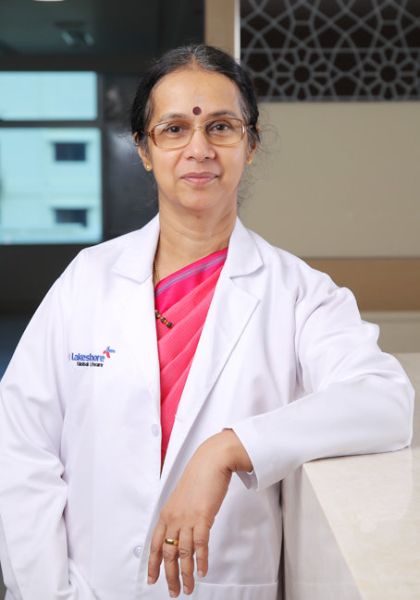 Dr. Chithrathara. K
HOD - Gynaec & Surgical Oncology